At Daka SecAnim, we provide services for a large number of animal livestocks on a daily basis. We therefore also collect and process by-products from profession animal husbandys. The resulting products are used for i.a. organic fertilizer, biodiesel, and biofuels for cement plants. All in accordance with the law and with the highest possible level of safety and hygiene.
Information about our pick-up Service
Export of sheep and goats for breed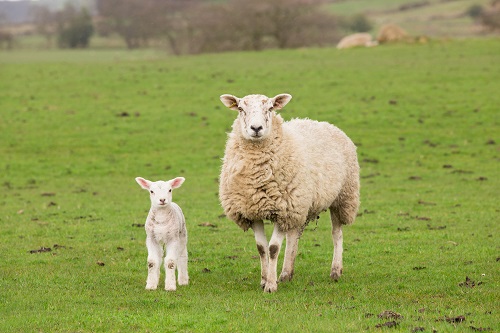 This means that breeders who want to export sheep and goats for breeding will continue to have all fallen and destroyed sheep and goats over 18 months from the herd TSE-inspected. Therefore, farmers who export sheep and goats for breeding must remember that they now have to themselves ensure the removal of TSE samples from fallen and killed sheep and goats over 18 months when they are sent to Daka. This can be ensured by using blue ear tags which can be ordered through RYK. Sheep/goats with these blue tags are removed for TSE testing at Daka in Randers.
The EU Commission has been working more quickly than expected and the approval came into force on 18 March 2012. Therefore, the change will come into force with immediate effect.
Registration with the PIGUP&KO app
Daka SecAnim wants to make the collection as easy as possible for you. If you have a CHR number, you can use the PIGUP&KO app to register the animals when they are ready for collection, no matter where you are. The digitally connected customer portal contains all the necessary documents, statistics and invoices. The dead production animals are transported to the Daka SecAnim factory in Randers, where a professional and safe handling is carried out in accordance with Danish and EU guidelines.
Find more information about the app here.
Registration of e-mail for receipt of invoice
You must remember to register, if you want to receive your invoices via e-mail in the future and
save the invoice fee of 50 DKK for receiving a paper invoice.
Register here.
As a customer of Daka SecAmim, you contribute to sustainable recycling: Fat from processing is used for biodiesel and meat and bone meal is used in an environmentally friendly way as an alternative fuel at power plants or in the cement industry or as fertilizer ingredients.
Daka Denmark A/S
Lundagervej 21
DK-8722 Hedensted
CVR-nr 33776039
Contact
Phone: +45 7928 4047
Mail: secanim@daka.dk
Opening hours:
Monday-Thursday 07.00-16.00
Friday 07.00-15.00